Establishing a good reputation for your business takes time, hard work and great customer service, and is also something that can be lost instantly if you break trust with your audience. With that being said, there are some things you can do to start building your business's reputation for the long term even when you are just starting out.
How to Build a Good Reputation for Your Brand
According to Forbes, Rolex is the most reputable brand in the world. Your business won't have had the years in your industry to establish yourself like Rolex, but what can you do to start building your brands credibility and ensure that 1, 5, 10 years down the line that you have the kind of trust that some of the bigger brands have now?
A Website Will Give Your Small Business Credibility
A 2015 study performed by Verisign reported that 84% consumers believe that small businesses with websites are more credible than ones without an online presence.
In the digital age having a website is something that is expected of businesses. Even if you don't use your website to generate revenue through an online store or lead generation form, you can start with a brochure site that provides all the essential information about your business such as contact details and opening hours.
Create Content For Your Website
If you're setting up a brand new website for your business, the options for content can be a bit overwhelming and it can be difficult to know where to start. Some businesses try to walk before they can run and focus on flashy content such as videos and social media. While these can be great marketing tools, when your business is starting out they often don't do much to help your brand's reputation.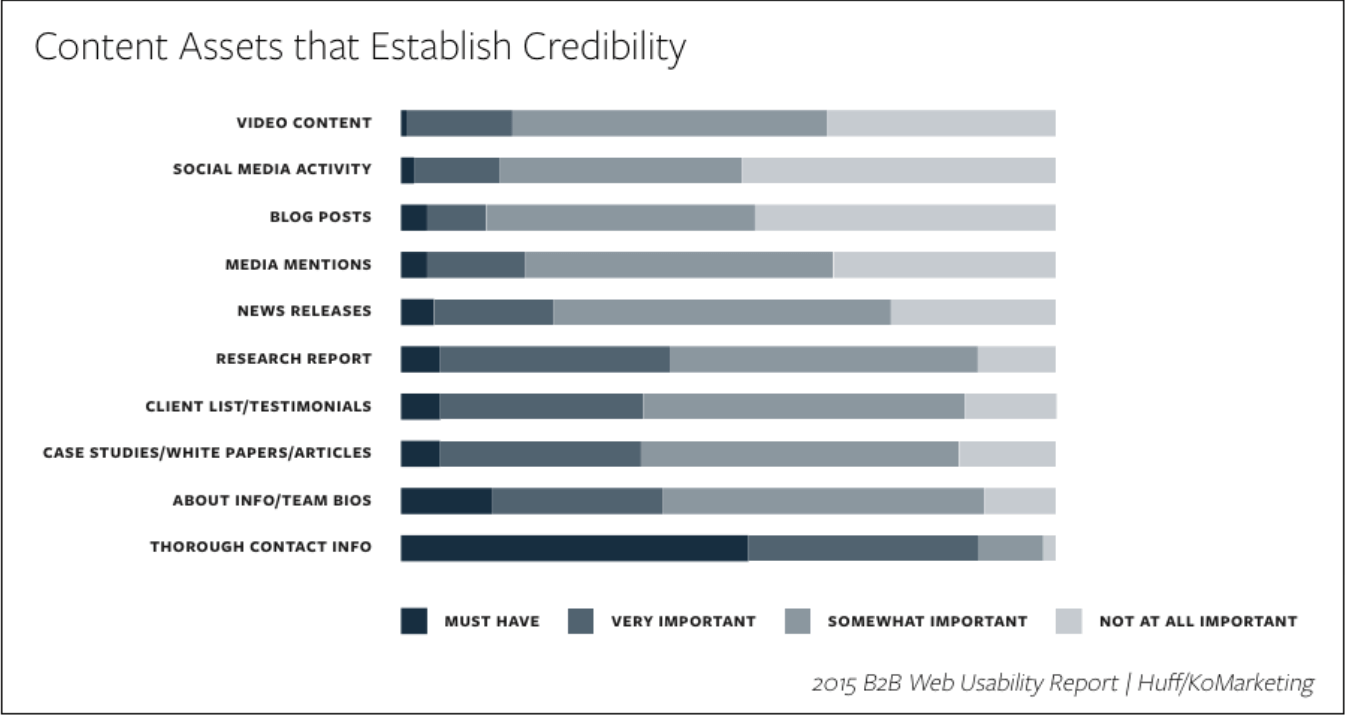 According to Huffington Post and Ko Marketings 2015 B2B Website Usability Report the must have content assets for establishing a businesses credibility are:
Thorough contact information

About us

Team bios

Case studies

Testimonials
When establishing your businesses reputation these should be at the top of your checklist and are all assets that can easily be incorporated into your website. Getting these basics down should be your initial focus and give potential customers a way to get a feel for your business and build your credibility.
Take the time to really think about your business message and what you are trying to achieve. Put all this information into a thorough and well thought out About Us page. The About Us page is something that can often be left as an afterthought for many companies, wasting the great potential it has to build an initial relationship with your website visitor. About Us pages are some of the most viewed pages on many websites so by creating some killer copy for this page you give yourself an advantage over your more established competitors who may not have put in the same amount of effort.
Create A Branded Email Address
The same study previously mentioned by Verisign also concluded that 65% of consumers consider a company branded email to be more credible than a generic email account such as Gmail, Outlook.com, AOL, or Yahoo mail.
Generic emails can be set up easily by anyone while branded emails require a domain and a little more effort. This leads generic emails to feel unprofessional and sometimes even spammy if they are used for businesses. Having a generic email can make you seem inexperienced and even raise concerns about whether your company is real but branded emails show you are serious about your business and intending to be around for a long time.
When you get your website set up one of the things you should ask your website design agency to do is set up branded emails for your team. This will often come included in the initial quote and they will often also be able to help you with redirecting emails from your previous email address to your new business address to ensure a smooth transition.  
Build Relationships With Other Businesses and Leverage Their Reputation
Make connections on social media and cross promote content, products or services.
One of the biggest marketing trends we have seen over the past few years is the rise of influencer marketing. Consumers are more willing to trust a brand if someone they already trust endorses them. Find some other businesses or individuals on social media that have an audience that matches the kind of audience you are trying to target but whose product or service is not a direct competitor of your own then reach out to this person or business and start building a relationship with them.
You can then do things like host events together, create content together and cross promote eachother products, leveraging their already established trust to help build your own.
Be Active in the Communities You Are Part Of
Consumers don't want to do business with someone they have never heard of. It will take multiple times of your business interacting with your potential customer before they ever consider doing business with you so think about ways you can get in front of and communicate with your audience.
A great way to do this is by being active in your community. Join conversations on twitter, facebook groups and go to industry events to get your name out there. The aim of this type of communication should always be to build your brand and not to sell products as this could have the opposite impact. If a consumer meets your business for the first time and you immediately start trying to sell them something without first showing them why you are a leader in your industry and can be trusted they may be put off doing business with you for a long time.
Be Consistent
If you say you are going to do something, do it. Don't overstretch yourself and promise things you can deliver as this will break trust with your audience and your brand will lose its reputation.
When you are just starting out, you will not have the resources and budget that other larger companies have so you may not be able to offer the same level of service to your customers but that's okay. As long as you deliver on the things you promise you will establish a reputation as a trustworthy company and as your business grows you can start to give your customers more.
Increase Your Corporate Social Responsibility
According to a study by PwC, 56% of millennials would consider leaving their company if its social responsibility program didn't meet their expectations. Being socially responsible can help attract great talent, new customers and establishes your company with a great brand image.
In the era of social media and instant information, everything your brand does can be put into the spotlight so ensuring as much of it is socially responsible as possible means that consumers will have more positive things to say about you than negative.
Being socially responsible doesn't mean you have to start donating thousands to charity but there are some simple ways you can create a socially responsible image around your brand.
Going green

: There are probably some small everyday changes you can make in your offices that can reduce your environmental impact. You can implement recycling programs, waste reduction, and energy conservation within your office and also think about the products you are buying and your manufacturing process for any products you sell.

Give back to the community:

There are a tonne of ways to give back and be active in your community. Think about some ways that align with your business and its mission. For example, Whole Foods lists "We serve and support our local and global communities" as a core value and goes on to give back over 5% of its net profit to community programs.

Volunteer as a team building activity:

The employees in your business will likely all have socially responsible causes close to their heart and may already volunteer within your community. You can then get your whole team involved, making it a great way to build a socially responsible brand as well as cement relationships in your team by working together outside of the office on a good cause.
Go a Little Bit Beyond What's Expected or Requested
When was the last time you were really impressed by a company? Probably when they went over and above your expectations. Why companies do this customer then become the best brand ambassadors, telling friends and family about the great service.
If a new customer asks for a reference, from a previous client, give them two or three. If you promise that you can save your customer 10%, save them 15%. If you guarantee a follow up in 24 hours, do it in 12 hours. Go the extra mile and send handwritten thank you notes. Small gestures like this go a huge way in building a positive reputation for a brand.
Track Search Trends Relating to Your Company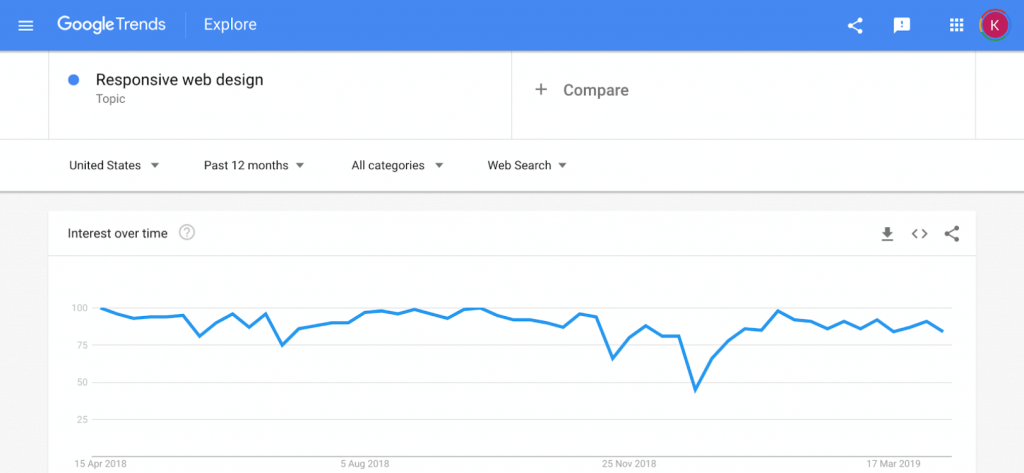 As mentioned at the beginning of this blog post, reputation is something that can be lost in an instant. It is therefore important to monitor what is being said about your brand online. A sudden spike in traffic relating to your company can be a good indication that people are talking about you online, this then gives you a great opportunity to join the conversation and manage your company's reputation.  
Some free tools you can use to help you monitor online search trends include:
Google Trends:

This tool will give you a broader view of what is trending over time in your industry and can help you make more informed decisions regarding your marketing and ensure you are promoting topics that will be talked about.

Buzzsumo:

On Buzzsumo you can enter your website URL or a keywords and it will bring up all the social media articles relating to it and tell you the number of times it has been shared on all of the major platforms.

Social Mention:

You can follow and search for mentions relating to specific individuals such as your CEO as well as your company brand or a new product. You get real time results from over 100 platforms and you can also set up daily alerts so you know instantly as soon as something has been said about you on social media.

Reputation is one of the most important assets for any business to have, especially when you are just starting out. It signals to your audience, and new and existing clients that you can be trusted and that they should do business with you. It takes time and effort to build and manage your brand reputation and should always be one of the top priorities of your business.
Be prepared for your business to be around for the long term and behave in a way that will make customers want to recommend you to other people. Your brand is not going to be built overnight but by consistently meeting your promises and going beyond just creating a product or service you will establish a company that consumers feel loyal to and that core customer base will be what keeps your brand on top.