What's the main goal of your website? To generate leads – whether that's email signups, form submissions, or purchases, your website is supposed to bring in leads and generate income for your business.
The days of just using your site as a brochure for your business or simply having it because 'everyone else has one' are long gone. As smartphones, laptops and all things digital take over more and more of our lives, an online presence is essential for a business's success, and that online presence should be generating you leads.
Even if you've invested in a site with great functionality with the aim to grow your business, if it's not generating leads, it's worthless. Fancy design, top Google rankings, or interesting copy alone don't make a great websites. A lot of elements have to come together simultaneously to create a high converting site, and if you're not generating leads you could be missing one or more of these elements.
Is your website getting traffic?
It doesn't take a genius to work out that if you're not getting any visitors to your site then you won't get any leads or conversions. There could be a number of reasons your site isn't generating traffic but the biggest is likely to be poor Search Engine Optimisation (SEO).
According to a BrightEdge study over 70% of all traffic going to business, sites comes from organic search, that's more than social paid ads and referrals combined.
If your site isn't optimised to appear in search results that are related to your business then you're missing the chance to harness the power of Google to get high volumes of traffic coming through the doors of your website.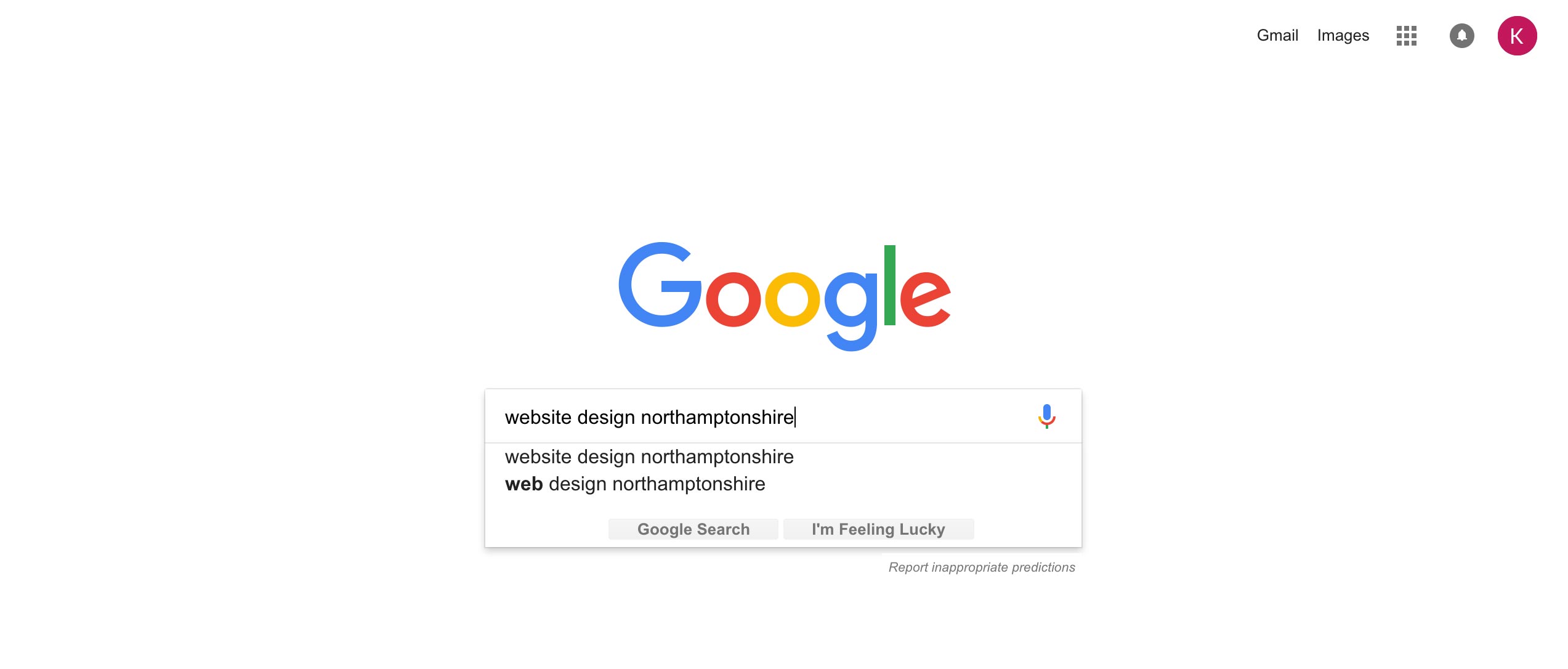 How to boost traffic to your website
SEO
SEO is one of the best digital marketing investments you can make for your business. Not only can it get you access to some of the users entering the over 3 trillion searches into Google every year, but it will also get you in front of the ones who are searching for terms related to your business.
While a high volume of traffic is something every website should aim for, it's not just a numbers game. As a business owner, you are better off having 1,000 visitors a month that have entered search terms that shows the user could have intent to buy a product or service your business offers, than 10,000 or even 100,000 random visitors with no buying intent.
SEO is no simple strategy to master though, with over 200 ranking factors in place, even the specialists have a hard time keeping on top of everything that needs to be done to get a high ranking site.
With that being said, even if you haven't got the budget to hire a specialist and put a thorough long-term strategy in place there are some things you can do to make sure you're not hurting your rankings.
(Yes, there are things you can do to your site that can have a negative impact on your SEO, everything from keyword stuffing to broken links or not have an XML sitemap).
The first step to good SEO is having a well-built site. An SEO friendly site (like all the ones we build here at DeType are) means search engines can explore and read the pages on your site, ensuring all your content can be indexed and helping you get visibility in the search engine result pages.
Speed is another critical element for SEO success and for visitor retention. A study by Google showed that 70% of web pages take more than seven seconds to load, pages like this don't often make it to the top of the search result because Google knows that they are not providing a good experience for their users. If your site is already speedy, then you're probably way ahead of your competitors, if not making a few tweaks to speed up page load times could be a quick and easy way to give you an edge over your competition.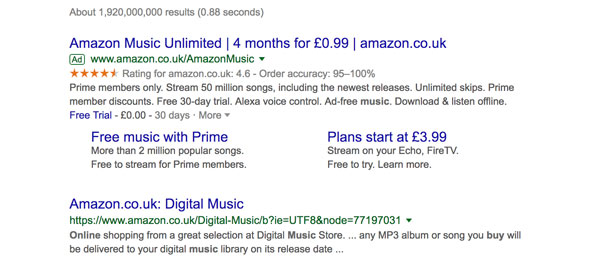 AdWords
While SEO is highly effective in the long term to boost traffic to your site, there is no trick that will get you ranking on Google for your keywords overnight. It can take months or even longer to start to see the result you want from SEO, you have to establish your site and show search engines that you are trusted and an expert in your field.
In the meantime, a good way to help get more traffic to your site is by using Pay Per Click (PPC) ads. These are the ads you see above organic search results; when set up with insights into your audience and what they are searching for they can be a great way to generate traffic for a new site or increase traffic for an established site.
You might be thinking that most people ignore ads like these nowadays as users have become more digitally savvy and aware of advertising but that's not the case. According to a Wordstream study, for high commercial intent search queries, the top three ad spots take about 40% of the clicks on the page.
Setting your business up to appear at the top of search results will be well worth the investment. It can help build brand awareness for those that don't click through but more importantly generate high-quality traffic for your site that will lead to conversions. Google's Economic impact report even found that on average businesses make $2 in revenue for every $1 they spend on AdWords.
How to convert visitors
Now you've got high volumes of traffic on your site, how are you going to convert them?
If you've got visitors coming to your site but none of them are turning into leads or converting into customers then you need to think about what a visitor wants when they come to your site and if you're providing that to them.
User Experience (UX) Design
Design can be hugely influential in visitors buying choices. If you land on a website that looks old, spammy, has too much text, or is covered with intrusive ads then you lose trust in the site.
According to Econsultancy, 95% of users indicate that a positive user experience is the most important factor when they visit a website.
Once a visitor has reached your site you immediately need to establish trust and try to answer the question that has led them to your site.
Your website is the first impression you will make on your visitors so you will want to put your best foot forward, as this impression can be critical in establishing a positive relationship.
The average user makes a decision within 5 seconds of landing in your site to whether they'll continue using it. Having a professional, clean design helps establish trust and retain visitors by making you seem like a more reputable business.
Navigation
Website navigations are the most crucial element of any website. They need to be easy to use, put in a consistent location and always visible to your user, even when they scroll down your pages.
There are plenty of areas on your site where you can get creative and try to make an impression or stand out from your competitors; your navigation is not one of them.
While some sites like to try creative ideas and different styles of navigation, this normally negatively affects user experience. Users are used to the common layout of websites with a static navigation, something different to this can confuse and frustrate them, possibly causing them to leave your site.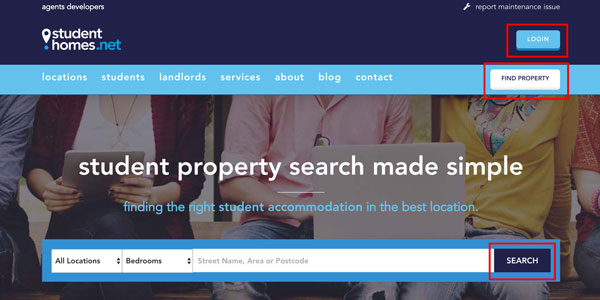 Website with clear CTA buttons (outlined in red)
Clear CTA's
You can't convert every visitor to your site, especially not the first time they visit it. Even with high-quality traffic from good SEO, some visitors are going to exit your site without purchasing anything.
While you do eventually want visitors to convert, you need to have a plan to push your visitor along every stage of the buyer journey, and Call-to-Action's (CTA's) help you do this.
Your CTA will normally be a button with some micro-copy on it such as 'Download,' 'Add to cart,' or 'Read more.' There are thousands of options you can choose from and you need to think about what will appeal to your users and get them to respond.
Your CTA's will entice your visitor to take a specific action on their buying journey, from downloading a piece of content to signing up for an email newsletter or eventually making a purchase. They are a vital part of your website and creative effort should go into them, thinking about where they are placed, what they look like and what they say, ensuring that they will get the most clicks possible.
Without CTAs, visitors will leave your website without engaging with any of your content and without leaving any contact information so that you can try to convert that lead at a later stage with tailored content for their needs.
Some basic questions to ask yourself about your websites User Experience:
Does the copy on my site clearly tell the user what my business has to offer, using keywords, engaging copy and simple language?

Do I have an easy to use and logical navigation that the user can see on page at all times?

Are there intrusive ads that distract the visitor?

Does my site have any broken links?

How fast are my page load times?

Are there clear CTA buttons to direct the user on their buying journey?

Can any awards or accreditations be clearly seen by your visitors?
High-quality content
Businesses have started paying more and more attention to their content marketing strategies over the years. With 43% of 18-24 year old internet users using ad blockers, paid advertising is becoming less and less effective.
Customers want to engage with genuine and authentic brands who are providing them with value beyond just the product or service they are buying. Creating high-quality content, you can build long-lasting relationships with your visitors and establish your website as the go-to place for anyone who has any questions relating to your industry.
There are loads of different types of content you can create to attract and convert leads and different types of content will work well for different stages of your buyer's journey.
Examples of content you can create:
Blogs

: Blogging is a personal and down-to-earth method of communicating with your customers, answering their questions and keeping them in-the-know about your business, its products, and its culture.

Infographics

: The majority of people are visual learners and presenting them with information in a visual way will be more likely to get them to engage with your business over text alone.

Case studies

: these provide proof that you will deliver on your offerings. Showing examples of happy customers or clients and times you have exceeded expectations is a powerful tool in persuading on-the-fence leads.

E-books: Great for attracting targeted leads and establishing yourself as an authority in your space. They are a way for you to share your in-depth knowledge and prove that you are a leader in your industry that can add value to your customers.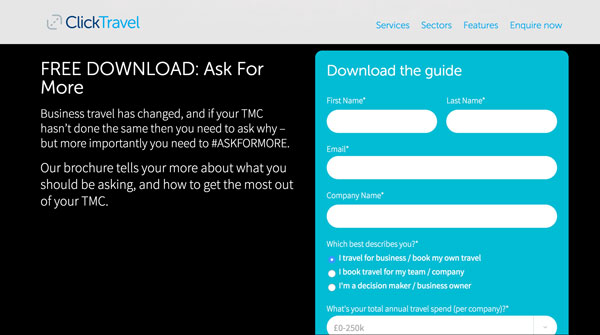 Landing Pages
Landing pages are pages on your site that focused on a single objective that is consistent with the ad that the visitor clicked on to be taken to your site.
Effective landing pages are tailored to each campaign you run, having specific content for various landing pages and for what stage of the buyer journey the visitor is in.
A lot of businesses send all their email, social media, and search traffic to their homepages. This is an ineffective way of generating leads, you could capture these leads at a much higher rate by sending them to landing pages that have consistent messaging to the ad/email/social media post they have just seen.
Companies see a 55% increase in leads when increasing their number of landing pages from 10 to 15.
Once you've generated leads from your landing page, you already know the type of product or service that your lead is interested in. You can segment your leads by landing page making it easier to convert them as you can more effectively nurture that lead by providing it with relevant content to help push them along your sales funnel and eventually convert them into a customer.
A website needs to be more than just a few pages and some fancy design to generate leads. With the amount of content and competition out there on the web, the only way for your site to succeed is with an effective digital marketing strategy.
This starts with building a great site, with your audience in mind and goes on to use all the effective channels available to you to get in front of the biggest and most relevant audience possible. From there you must keep on top of your leads, thinking about new and effective ways you can convert them and analysing any data you collect to ensure you can keep improving your strategy.