Getting visitors to your website is just the start, and can be challenging enough even with a solid SEO or inbound marketing strategy. After that hard work, you need to be sure they're going to turn into an enquiry.
So if you're looking for how to convert more leads on your website, read on!
Your goal is to convert passive browsers of your site to paying customers. They may have responded to an ad or offer on social media, or paid ads, so may be warmed up a bit already, or at least curious to find out more and see what's on offer.
1. Need for speed
The number one win for your website is fast loading speeds. The majority of your prospects are ever more time-poor, and if you're website is trudging along, your prospect will get frustrated and leave. Not only does this mean you'll have lost a potential customer – it can prevent others from even getting to your website as it can affect your bounce rate.
Essentially, if people are leaving your website quickly, Google marks you down. Don't fall at the first hurdle!
How do I fix this?
There are a number of factors which we go into more detail here, but fundamentally it's down to efficient coding, optimisation tools and server specification.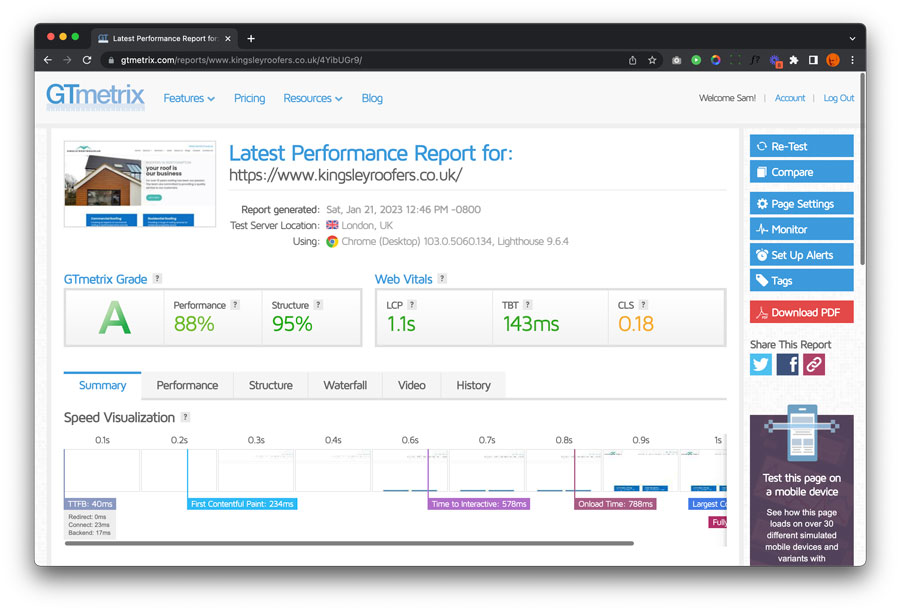 We use independent speed testing tools such as
GTMetrix
to isolate issues slowing down website loading, and aim for A rating
2. Use good website design and layout to convert leads
It only takes 50 milliseconds for users to form an opinion of your website so it's crucial to make sure your landing page looks great and is easy to navigate. Not only this, in a study from Komarketing, 37% of the respondents said that poor navigation and design cause them to leave a website.
The most powerful approach for this is to create a 'landing page' that is tailored directly to your target audience with one specific offer. For example we have 'estate agent web design' which is geared specifically to that market.
How do I fix this?
Generally speaking, the left side of the page holds the majority of the viewers attention; so a clear, actionable headline, simple sub heading, and a contact form are the basics – pair that with an engaging image that links to our headline and you're on to a great start.
3. Compelling content
So, your prospect has landed on your super fast site, and has been presented with a beautifully designed page. What's next? You need to capture their emotion.
What problem are you helping them solve? Why do they need your services? What amazing offer do you have that they simply can't turn down?
Punchy headlines really do work – in fact they can increase conversion by up to 67.8% so it's well worth spending some time getting that right, or better still, work with a professional copywriter to craft it for you. Make it super-niche. Show that you understand them and their needs, and why you're the expert.
How do I do this?
As well as checking out the links above, keep it simple, focus on solving a pain point or an offer too good to refuse. Keep it short, simple and actionable. The majority of your prospects will be time poor, so get to the point quickly and ensure you have hierarchy to make it easier to read. Check out these tips here.
4. Call to action (CTA)
This is one of the most important elements of your page. The call to action is the ultimate prompt to encourage your prospect to part with their contact details.
A call to action can be a short contact form (keep it simple, the more fields you have the more of a barrier you're making), a panel with a headline and button, or indeed just the button itself.
How do I do this?
Make it personal. Make it urgent and actionable – 'get started', 'get your guide now' rather than 'submit form'!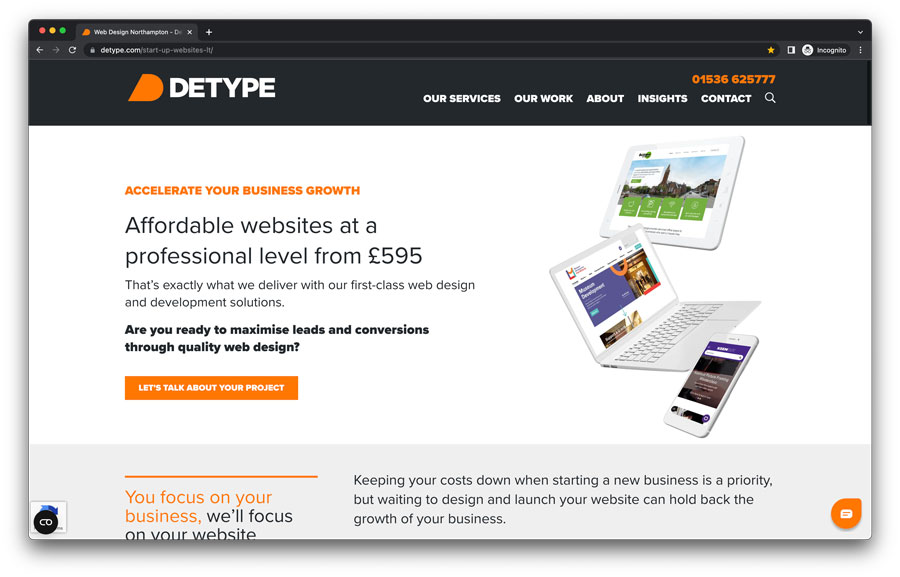 Example of one of our pages showing hierarchy of messaging, call to action and clear layout.
5. Popups
Annoying to some, but pop-ups work. Conversion rates range from 2-10% on average, but a warmed up lead that's arrived on your site following some content is more likely to engage with them. They can be implemented in several ways:
Timer – display the popup after so much time on a page or on your site.
On scroll – trigger the popup after scrolling a certain amount of pixels or percentage of your page e.g. 100px or 50%.
Entry – these cover the page as soon as it loads, meaning the user has to either engage or dismiss the popup.
Exit intent – this tracks your mouse movement to trigger the popup as the user goes to leave the page by heading for another tab or the toolbar. These are very effective, but only really work properly on desktop – best to  use a timed or scroll popup in its place on mobile.
How do I do this?
There's a huge range of plugins for WordPress sites, or many CRMs have embed codes to automate that for you. Speak to your web designer or check out Hubspot, Active Campaign, Freshworks, Thrive Leads to do it yourself. Think about what else you can offer your prospect as they haven't yet gone for your landing page.
Conclusion
Each of these points will help you get more lead conversions on your website, but combining them all is where you'll see real results. Don't just settle for one page to optimise – try A/B testing to see if different wording or placements can yield better results. And some key points to remember here:
Keep it simple! Don't overwhelm your user with too many CTAs or popups
Take time to review the page and ask colleagues and others to give their feedback
Don't give up – review and tweak as necessary, and try different audience types / offers to see which ones work best.