Estate agent website design can be a little different from your traditional business website. With 44% of home buyers looking online to find their home, your website is increasingly becoming your first impression with buyers.
To make sure that your website is optimised to generate the most leads, we've put together a list of our top 10 tips for estate agent website design.
1. Property Search is Vital
Property search is a must have. There's no getting around this one, if you don't have a search portal for your visitors to browse through your listings and find properties right for them, they aren't going to stay on your site very long.
When adding a search option it's important to think like your user. What criteria are important to home buyers and renters? What categories will your users want to filter results by?
Some basic things to include on your property search are:
Buy or rent

Number of bedrooms

Location (and radius from that location)

Type (flat, house, bungalow etc.)

Furnished/unfurnished

Price range
2. Don't Let Slow Speeds Kill Your Site
It feels like in every blog post we write we talk about site speed. Well, there's a reason for that – its importance!
Slow page load times will kill your site. Users don't have time to wait around and see if your site is going to load, if it takes too long, they will just click back to their search engine results and go to another site that loads faster.
Estate agent website have a lot of elements coming together. For listings you may often want to upload the highest quality, crisp images to convince buyers to book a viewing. However, these images will have large file sizes and slow down you page load times. It's important to find the right balance between looking good and loading fast.
It's not just users who hate slow sites, its search engines too. Since Google's Speed update, mobile and desktop site speed have become a significant ranking factor. Speeding up your site could be a quick way to get above competing estate agents in search engine results for your keywords.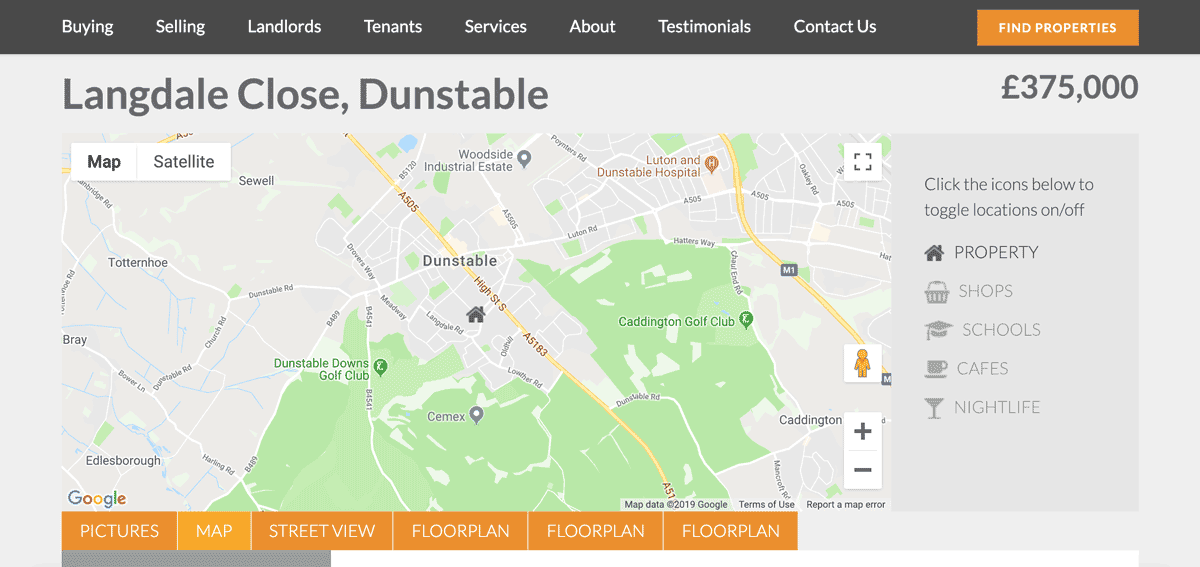 3. Provide All the Information Your Users Could Need in One Place
Once you get a user on your site you want to keep them there. Don't force them to leave by not displaying all the information they will need.
If a user wants to know how close a property is to the local school and you don't have that information included they will go somewhere else to find it. If the information they find rules out that property from their search, they are no longer on your site to continue looking for a home. They will go back to the drawing board and may now end up on a competitors site.
When adding a property to your site include as much information about it as you can. Add a map so it's easy for potential buyers to get an idea of amenities close to the listed property. Add filters to the map to make it even easier for them to understand what is in the local area and help them decide if the property is the right fit for them.
This can also save you time answering questions down the road or doing viewing for potential buyer that would not really be interested because the property does not meet one of their criteria.
Include filters such as:
Schools

Shops

Cafes

Nightlife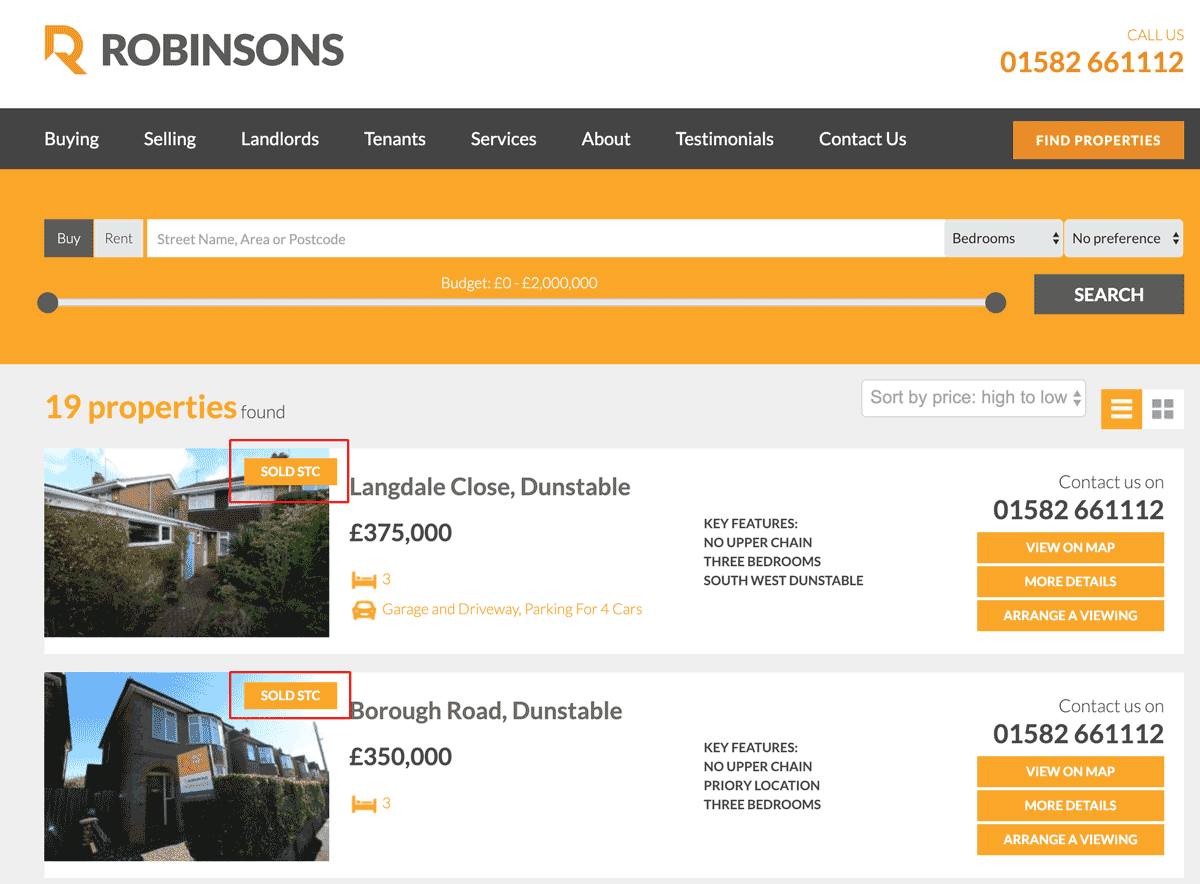 4. Keep Your Listings Updated
There is nothing worse when looking for a home to buy or rent than when you think you've found what you're looking for just to be told its not longer on the market.
When designing your estate agent website think about the process you will have in place to ensure all your listing are kept up-to-date. You can often link the software you use internally to your site so once you have updated a listing on your software, it will auto-update your site. This is something you should speak to your website designer about as it can save a lot of time over manual updates.
5. Keep Your Site Content Updated
Not only do your listings need to be kept up-to-date but so does all other content on your site. Fresh content helps indicate to Google and other search engines that your site is active and should be displayed in their results pages.
While it is important to keep content fresh for SEO, you can also use it as a way to provide a better service for your users.
Some examples of ways you can add fresh content to your site:
Create blog posts to help out buyers and renters by giving them tips on finding a property

News updates of changes to your agency – ie. Christmas opening times, new offices, etc.

Updates on the local area – ie. new developments, new school or shops opening.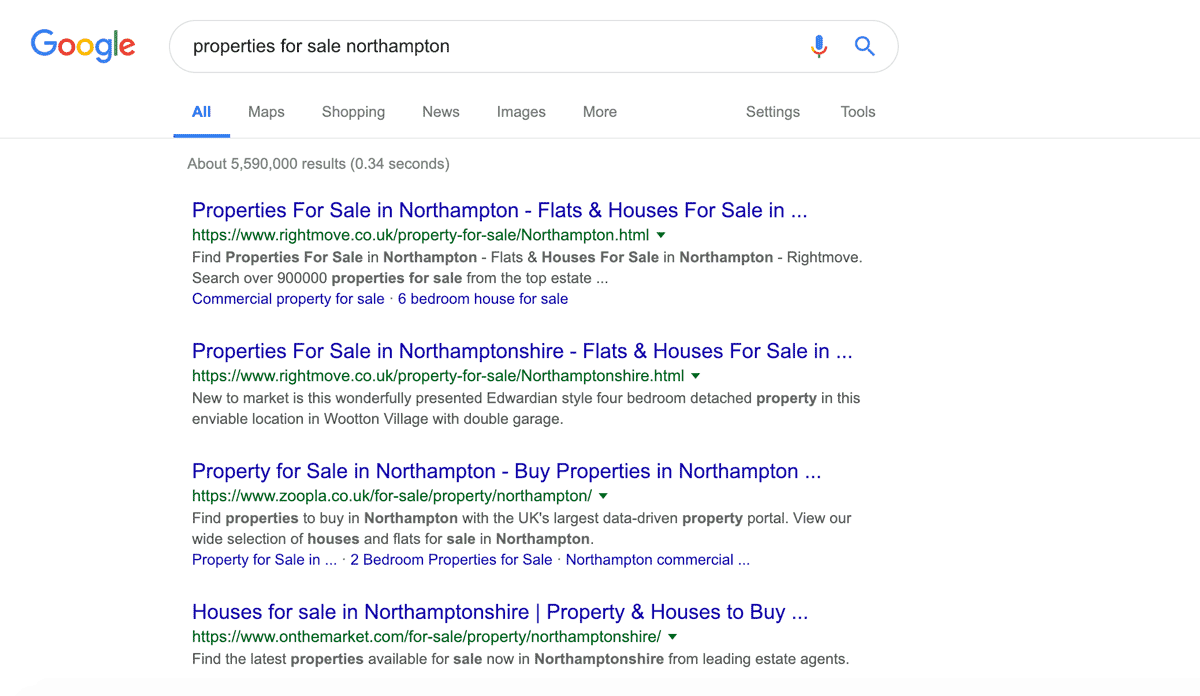 6. Recycling property URLs
Once a property is sold or leased the listing then becomes redundant. Rather than just displaying a simple 404 error page on this URL try to find a way to get the user that has visited it to continue to engage with your site.
For example you could:
Display a message saying the property is taken and give them a search bar to look for alternative listings

Redirect them back to your property search page

Display suggested alternative properties this user may be interested in.
7. Show your USPs
It is becoming increasingly difficult for smaller local estate agents to rank in search results versus the big players like Rightmove, Zoopla and On the Market.
When a user does make it to your site, you want them to immediately know the advantages of using your estate agent over a larger portal. Think about what makes you unique and why they are better off coming to you and display that information on your homepage.
You can include things like:
Friendly, not a faceless corporation – use engaging images to support this point.

You are established and know the local area.

Properties will be listed on your site first, before larger portals so it they want to see new properties before anyone else they need to come to you.
8. Have Top Quality Branding
It's not just functionality and content that are important on your site, aesthetics matter to. How many times have you click back off a site because it appeared outdated, ugly or did not match the branding you were expecting? Probably a lot (there are a lot of terrible sites out there).
Having a sleek and professional brand that you keep consistent across your site puts your best foot forward with new potential clients. As much as we like to think we are not superficial, for many of us we judge first based on looks. If your site and brand don't immediately appeal to a new visitor they aren't going to stick around long enough for you to explain all the reasons they should buy through your estate agents.
9.  Educate Your Site Visitors
The process of buying or renting a property might seem obvious to you, heck if it doesn't your'e probably in the wrong business. To most people, however, the process of finding a new home can be confusing and overwhelming.
Add guides and blog posts to your site to educate you visitors on some key things such as:
Documents they will need

Glossary of terms

Step by Step process of purchasing or renting
Having this information on your site will show potential clients that you are transparent and here to help. It can also save you a lot of time in the process of a property exchange hands as you can give clients a resource to review rather that have them calling up every day with a new question about how long it takes or when they will get their keys.
10. Guide Your Visitors Through Your Site
Put yourself in the shoes of your user. When creating the best estate agent website you need to make sure that a visitor has a clear next step. Add CTAs and contact forms to your site to give your visitors an easy way to know how they can express interest in a property.
From the moment that a user is on your homepage you want to guide them through your site. Have your search bar clearly visible with a big CTA search button so they know the obvious first step.
Add read more buttons on the property listing in the search results so the user knows they can get more detail about a property.
On listings add buttons such as 'Contact' or 'Add to Wishlist' so that there is a clear next step and the user will stay on your site.

11. Simple Navigation
Navigation is  vital element for any site but for estate agents it can be even more important.
You are often catering to a range of people from buyer to seller to landlords to tenants. Each of these visitors will be on your site for a different reason and will be searching for different information.
Having a clear navigation that labels where they need to go will help to keep them on your site. If a user has to look too hard for information or the navigation is complicated they will often give up and exit your site.
12. Responsive Design
We're in 2019 so this one should go without saying. More internet users are searching on mobile than ever before – in fact it's now more than desktop. For your estate agent website to be a success it needs to be designed so that users have a seamless experience on mobile.
If your website isn't easy to use on mobile then you're a step behind your competitors. If you take look at your website traffic, you will probably find an overwhelming percentage of your traffic is coming through mobile.
If you put yourself in your users shoes, think about when you are likely to be searching for a property. The answer is probably on the go – during your lunch break at work, on your commute to work, while you're waiting for a friend to arrive for lunch.
People have busy lives and need the convenience to be able to look for their future home whenever a moment arises so having a beautiful and easy to use mobile site is an essential element of estate agent website design.
The best estate agent website design is made up of these key elements working in harmony together. There's no one quick easy fix to creating a great site, but one element of your site not working or meeting the standard your users expect can have huge negative implications on traffic, bounce rate and more.
When designing your estate agent website keep your audience in mind and remember that your website is basically your online store front. You want to invest in creating the best and most beautiful site possible to make sure you attract customers and convert leads.